Recent Interviews and Articles
Magazine, newspaper and TV
Video produced by director/cinematographer Michael Curwood.
More of Michael's work can be seen at his website.
Tourism New Zealand
August 2015

Gabby's work is both inspiring and her line drawings draw deeply upon New Zealand's unique landscapes.  Her artistic works are brought to life by an innate creativity.  A consummate professional and talented collaborator.
– Lauren Coughlan, PR Manager Australia, Tourism New Zealand
The Peranakan Society Singapore Magazine
Issue 1, 2015
'The adoptee as an artist': A wonderful, sensitive piece about my adoption and how it has influenced my work by the writer: Emeric Lau from the Peranakan Association, Singapore.
ArtSHINE
May 2015

Close up interview with ArtSHINE owner Vinh van Lam
Garden Drum
January 2015
A profile of me and my work on Garden Drum: a wonderful resource for gardeners and plant enthusiasts
The Daily Telegraph (Sydney)
October 2014
A lovely writeup from Art Writer: Elizabeth Fortescue, on my show: 'Where are you from?'
Read the article (the link will open a PDF)
Enterprising Spaces
October 2014
A writeup on the artspace at Platform72 and my show: 'Where are you from?'
Parka Blogs
June 2014
A wonderful art resource by the artist Teoh Yi Chie
Banana Writers
May 2014
Below is a piece I wrote around my adoption as a backdrop to my 2014 show: 'Where are you from?'
Gabby being interviewed by Vinh Van Lam at the 2013 Australian Art Show at the Hordern Pavilion.
She talks about the direction her work is taking and in particular her custom printed wallpapers now available.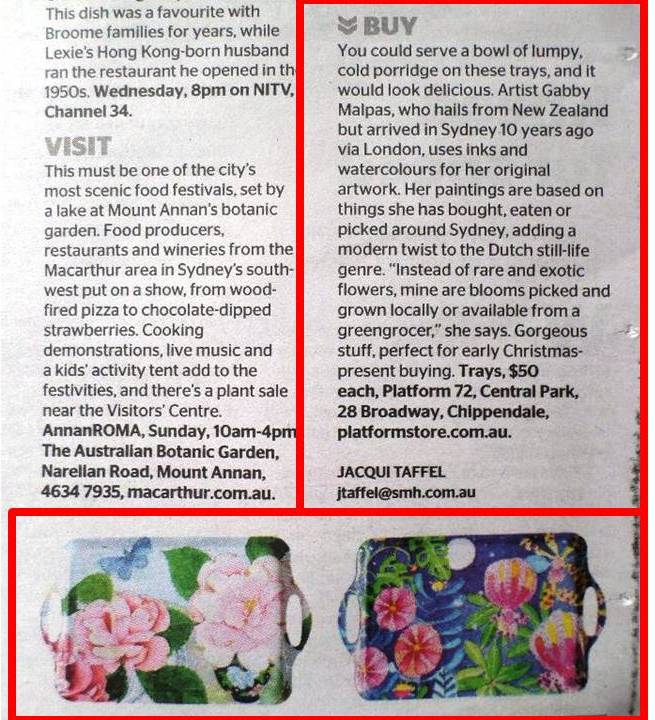 A little plug for my limited edition melamine trays in the Sydney Morning Herald, weekend edition Spectrum magazine, 12 April 2014.
My trays are very limited edition: 40 each of 3 designs.